What a long, strange trip it's been, both times. I've gotten pretty comfortable here and could probably live here if I had to, but it's definitely as different from home as anywhere. I've reviewed my tour books and wanted to see if there was anywhere significant I hadn't gotten to. Roppongi? Check. Shibuya? Double-check. Ueno? Yep. Ginza? For sure. But Asakusa still lingered as a "to-do", because it's described as "old city" and is where one of the most significant Buddhist temples is, Asakusa Kannon, also known as Senso-ji. It also bothered me that I hadn't had sushi that was not from the supermarket. That's a problem. And the Diet building was nearby so on this final weekend, let's try to get these covered, can we?
But first, there's one place I wanted to go to to see for myself, especially given
this
weekend. The
Yasukuni shrine
is described in Time Out Tokyo as "... one of the Tokyo's grandest shrines, ... also the nation's most controversial landmark."
It's dedicated to the more than 2.5 million souls that have died for the emperor, which include more than 1,000 convicted of war crimes, including 14 Class-A war criminals. I thought I'd go take a look.
Here's the entrance from the subway, the largest
torii
in the country, 8 stories high and made of steel.
This statue is of the "father of the modern Japanese Army", Omura Masujiro. The statue was completed in 1893.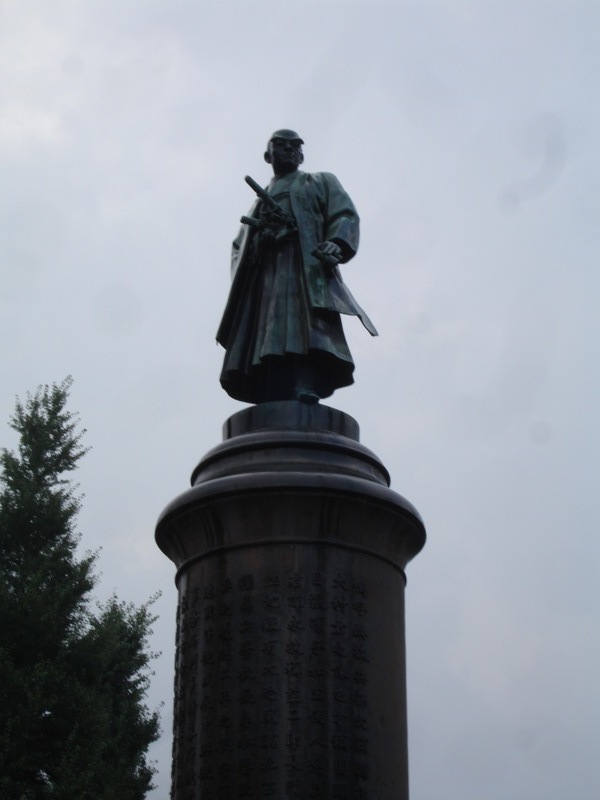 You go under a gate with enormous imperial seals.
You're then in the inner area, with another torii. There were some vendors selling various religious items.
Since it's an active shrine there are priests, and are robed in orange (it may be vermilion).
Here's the main shrine. People were coming out and paying their respects, clapping to awaken the kami.
It was a popular place on this Saturday, made rainy by tropical storm Vong Fong.
After that I was heading back to the subway and remembered that next door in the park was the
Nippon Budokan
, which means "Martial Arts Hall" but which is famous to westerners as where the Beatles made their Japanese debut, and where many famous rock albums titled "... Live at the Budokan" were recorded.
There was a huge crowd gathering for something I couldn't discern, but while I was doing my research for this update it turns out it's an event called "
Gundam 00
vs.
Code Geass
", which are apparently two anime programs battling it out. At least one is shown in the US on
Adult Swim
. It's certainly drawing a crowd willing to pay ¥2000 per.
Next it was down to the government building district. Here's the national
Diet
building, Japan's bicameral legislature. It was closed.
The whole area was pretty sparse. Well, it was Sunday.
The low building in front is one of the Prime Minister's.
This is one of the ministry buildings. Kind of plain and functional.
The National Diet Library building.
OK, with that behind us we can move on. Went looking for lunch and found myself at the Yurakucho subway stop. This is typical of a downtown building with different businesses on each floor. You have to look up, even in the rain.
I was hoping for some sushi, especially one of those conveyor-belt sushi places. I looked around for an hour and all I found was places selling sets, at reasonable prices, but which included things I knew I didn't want, like those huge fish eggs or the sea urchin innards, and I didn't feel like reading through my book to explain it all. I ended up at the Hibiya Chanter mall building which had a large food court, at an Indian restaurant which served a very fine curry and which was operated by 4 nice guys from India. One used to work at the Fisherman's Cove in Chennai and from then on we were all friends. (BTW they're on tourist visas!)
After stuffing myself with naan I decided to walk to the subway via the Hibiya Park, and on the way, found this large statue of Godzilla.
It's a nice park with a nice fountain. People in the area must enjoy it during lunch.
An interesting art piece of birds.
Something I didn't see earlier - a countdown timer to show how long until the light changes.
It's pretty easy to get around the most common areas, because there are plenty of these signs in Japanese and English.
Finally at home, I tried to take a picture of the Nodaiwa restaurant we ate at earlier in the week, which is in a building moved to the site.
On Sunday it was rainy but the heat finally broke (it was 72), so I decided to trek to
Asakusa
(pronounced A-sak-sa) to see
Senso-ji
. It was easy to find. The inner part was closed for a service this day but that didn't stop lots of people from wandering in and out and taking pictures. The carnival atmosphere in the courtyard may have helped with that.
In the center of the courtyard there was a large incense cauldron from which people waved the smoke onto themselves for good luck.
The "Thunder Gate" with its distinctive red lantern.
Outside of the temple you get a feeling for Old Tokyo, even though most of the buildings are newer than 50 years.
Still searching for my sushi, I wandered the arcade. At this place you can get levitating forks for a very reasonable sum.
Huzzah! I finally came across a sushi place, with conveyor belt, that was well-occupied, which gave a favorable indication of either quality or price, or both. I sat down, scooped some green tea powder into a cup, added hot water, and proceeded to eat six plates of tuna, halibut and shrimp, for a grand sum of ¥2650. Yum!
We are all amused by the Tokyo Metro's raccoons.
Back at home, the rain cleared up, but it got a little hotter. I took a break on the roof and played with camera settings to get some tolerable night shots. By now, you should know what is what.
And with that, the holiday is over. Back to work tomorrow. But I leave you with the instructions to the Bathroom Remote controller, which tells us that "To Save on-dectrical consumption upon remote contorol unit display . Screen display will be disappeared under unworkable condition about ten minutes but only the operation lamp twinkles." With that, I bid you Sayonara.