When I was planning this trip, I thought it would be nice to schedule some vacation so I could get out and see more sights than I could
last time
. On that trip, there was a 3-day national holiday that gave an opportunity to do some touring, but it was still 3.5 weeks of work out of four. This time, there were no holidays on the calendar that I could leverage so I planned 3 weeks of work and a week of vacation. As it turned out, there is a national holiday during this vacation week as well, but not an official "close the office one". Called
Obon
, it's a time for honoring your deceased ancestors. It's customary to be around August 13-15, which is the end of the vacation week, and many of the people I needed to meet with are going to be out at this time. Oh well...
So Saturday August 9 Jen came to visit and we were going to Narita (most people pronounce it na-Ree-ta) to meet her that afternoon. While preparing, we heard loudspeakers outside as we had heard
two years ago
. We were expecting some protests or activity at some point, since the
Hiroshima
remembrance was August 6, Nagasaki was August 9, and the
surrender
was announced on August 15. Since the hotel looks out on Sakurada-dori, Route 1, and leads to the Imperial Palace, we didn't know if this was related to that. The hundreds of cars and trucks flying the
war flag
got our attention. Also, the effort everyone put into mounting loudspeakers, apparently permanently, onto all these vehicles, as well as the decoration, and organizing the rally, sure made us know they were serious about this weekend endeavour.
We saw this car flying the Japanese flag in front, and weren't sure if it was a dignitary. The white
license plate
indicates private ownership though the particulars are complex.
We asked at the front desk what was going on, and she laughed, telling us that it was a protest against the Russian Embassy up the street. Every year they hold a protest over the continued Russian occupation of islands that have been held since World War II, in particular
Sakhalin Island
, and they want them returned. We were leaving to go to the airport anyway, so we chose to head north past the Russian Embassy and see what the scene looked like. Here's the scene, with the embassy being those two white buildings in the background.
The chants were coordinated, and we weren't sure if they were recorded or live. Live. We recorded some videos, which are large and unedited.
This one (70 MB)
shows it early in the procession, and the crowd starting to build at the intersection. The blue buses are loaded with police, and more came as the hours went on.
This one (60 MB)
shows a different group, yelling what sounds to us like "
Banzai
".
Took the Narita Express from Tokyo station to the airport, which takes about an hour. One thing that can be confusing about their train system is sometimes you get two tickets to ride, one gets you through the first turnstile and the second into the high-speed or Shinkansen lines. You also have to show your passport when you leave the train to enter the airport, which you don't need to do if you arrive by road. Here's the "B" area where people exit from AA or JAL flights.
On the way back we let Jen soak in the scenery, which you can find on her Flickr site. I won't repeat other shots I've already posted, but here's the very large IBM building downtown:
Since I
had written
about eating many meals out of a box, Jen thought we should seek out a nice dinner. She looked through the Time Out guide and searched through Ginza and was able to locate, with a little assistance from a local, the restaurant Ten-Ichi by the address. Props.
Ten-Ichi
is the best-known tempura restaurant in town, and is regularly visitied by dignitaries and celebrities. You choose the set meal, depending on how much you want to eat (or spend). We chose the least expensive set which was ¥12,000 per person. While it came with soup and salad, and drinks were an extra ¥700 each, the focus was on the tempura. We had fresh eel, shrimp, prawn, a variety of fish, vegetables, squid, and scallops, each dipped in front of us by two chefs dedicated to just we three. It was incredibly light and flavorful, not like the greasy heavy stuff we've come to think of as
tempura
(which turns out to be or Portuguese origin). There was a little dish with two spots for salt and fresh lemon juice to dip, and a separate bowl of shredded japanese radish with soy sauce. Depending on the item, they told us which to dip in. I found the radish not so tasty, kind of like bitter turnip, but I thought the salt and lemon added just the right taste. The service was exellent and very memorable. If you can afford it, it's recommended.
On our way back, we stopped in a Pachinko parlor and Jen tried it out, but since we didn't know how to play, and the attendant gave up explaining to us, she lost her 500 Yen. On the street by the hotel we noted lots of these signs, which weren't usually there. We suspect they're notices of the rally, or "do not park" signs.
The next day we went to Akihabara to introduce Jen to the Electronics area. We went over to Daimon to pick up the JR
Yamanote line
to Akihabara, and also stop at Tully's for coffee and. I wanted to show this sign which is in most stations, which shows the actual schedule of the train per station. From it you can pick out what "rush hour" is and I'd say it's accurate.
We happened to be in the front of the JR train so we could watch the operator at work. Sorry about the incorrect focus (Jim!).
Finally, back at Electric Town. You've seen pictures and we didn't buy anything of substance but it was a fun visit anyway.
We got back not too late because the big traditional
Tokyo fireworks
display was supposed to start at 7, and the hotel roof looks over Tokyo Bay. Got some decent shots of the show, which went from exactly 7:00 to 8:20, which is 80 minutes. Since
8 is a lucky number
, is that a coincidence?
This is a smiley face, which was used liberally during the show. There was a heart as well, and possibly other symbols I just couldn't recognize.
The clouds of smoke wafted our way after about a half hour, and you could smell the powder.
Here the fireworks are obscured by the cloud of smoke.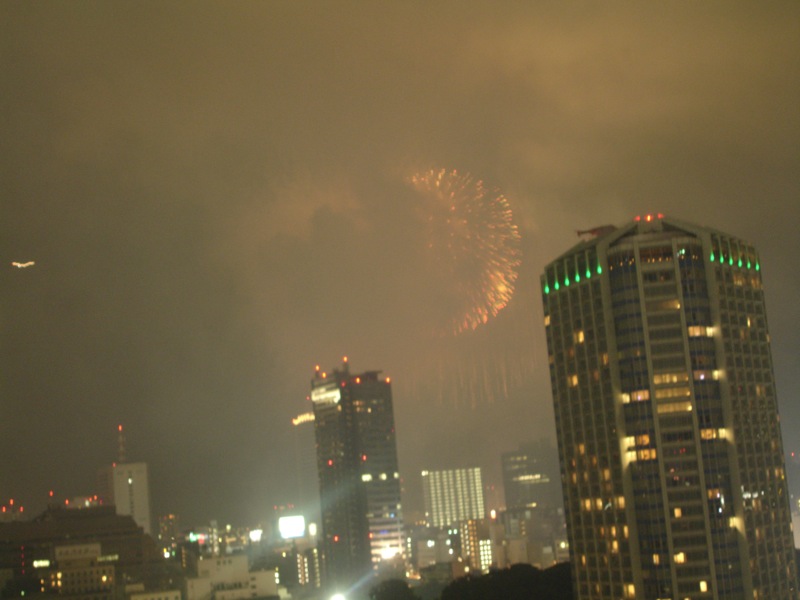 So far so good! Later.