Here's the first update, consisting of the trip over, and some sights seen. .
First, here's JAL's business class on the 777 - plenty of room and a nice seat. This is row 5 and
Seatguru
should note
this configuration
has extra legroom. I had the row to myself, which was nice.
As you can see, the 777 is huge! As big as all the land from Po-town to Albany.
Their map system shows items I wouldn't think an aviation system would note, such as Hudson Canyon.
Business class amenities are not as nice as first class, such as you just get a bunch of little packets, rather than your own pyjamas and kit bag.
Our route was cloudy for quite a while, but eventually it cleared up over Alaska, where I got a few shots of Anchorage. I discovered it was Anchorage through analysis of our flight path from Flightaware and the time of the picture. You can see
Ted Stevens airport
in the center of the picture.
In this photo there are these large fields, which I imagine are either farms or gas storage facilities.
Elmendorf Air Force Base
is in the upper left.
Another shot, showing the large mountains southeast of the city.
This is further on about an hour, in the area of Wood Thicket State Park, north of
Dillingham
.
This is landfall, around Kegun Kagati Lake (or so says Google Maps.)
A snack midflight before I tried to sleep. Shrimp in saffron rice, salad, fruit, and a tiramisu.
I made good time after landing, 30 minutes from gate to being on the Friendly Limousine bus. Upon arrival at the airport, I had a package waiting for me, delivered by Yamato Transport. It's a cell phone.
On my first day we went for lunch, and I've been dying for some
Dan Dan Noodles
, which is a chili-sesame soup with noodles. Mmmm. On Friday I went back to
the place that had the dan dan in 2008
and found it was just as awesome.
For dinner a coworker took me to a local place for snapper sushi, rice with fish, misu soup, and a bowl of stewed fish. With pickles and tofu. Also mmm.
On another day I had the opportunity to walk over to the Miwa Lock headquarters, which is only a few blocks from the hotel. They have a showroom and were very kind to me, even gave me a catalog.
The Tokyo Tower was lit up unusually this day, not sure if it was something for Spring or if they were only partway done with the lighting process.
Sunday morning, woke up early, and locals were doing Tai Chi in the nearby park.
Billy Mays is still earning residuals in Japan, selling Mighty Mendit, among other things.
I decided to RTFM and figure out if the Öko-Lavamat Turbo can actually dry properly because everything still came out wet. It turns out the problem was mine. See the lights lit when setting the wash cycle? Is "Drying" lit? Nope.
You have to manually set it,
then
press "Door". AH SO!
Another snack before spending the day walking around - a ham sandwich and tasty iced mocha. Very creamy.
Went to the
Super Potato
in
Akihabara
for my friend Jim, and found they had some old computer gaming consoles he was looking for. It also turned out to be above the radio store where I bought my
AOR 8200
four years ago.
Since it's officially Spring, and it was in the mid-60's, I went up to
Ueno Park
to see if the cherry blossoms were out. Not quite yet, but there were a few trees with blossoms.
Near there is the
National Science Museum
, with a life-size whale in front, and a group of saxophone players putting on a nice performance.
Took the
JR Yamanote line
back home and was able to watch the engineer from the front. It has a system called TIMS, and seems quite automated. I didn't see him having to do very much.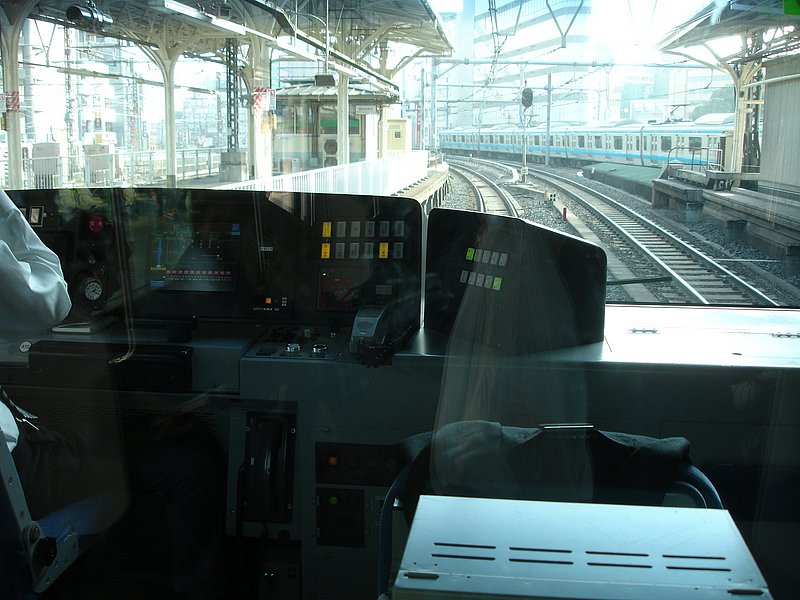 For dinner I met up with an old coworker who took me out to
Yashio
for some Pakistani food. The food was excellent, had Chicken Tandoori, and several different kinds of curries. They were holding a political meeting in the restaurant at the same time so it was pretty crowded. There were no women there.
If it's a Sunday morning, there must be some protestors. And there were.
Went over to Roppongi Hills and ate at a Hong Kong-style Tea House, where among other parts of the lunch set there was more Dan Dan Men. Mmmm. The food was really good, but they were playing this odd set of
cheesy broadway-style songs
which was a big incongruous. Their dan dan had more chili sauce than the other variants.
Roppongi Hills has a huge Mori Trust building, 52+ stories high, with an observation deck and an art museum. One ticket gets you access to it all. There's an outside observatory as well, around the helipad, but it was too windy so that section was closed. The view is tremendous. However, at the bar in the middle of the floor they had a pianist playing
"No Woman No Cry"
, also incongruous.
My neighborhood.
Got a good view of Haneda Airport, with active departures.
The Rainbow Bridge, looking out toward Odaiba.
Mount Fuji in the distance.
Shinjuku.
And since I had already paid for the ticket, I went to the Mori Art Museum, which was holding a really good exhibition titled "Roppongi Crossing 2010: Can there be art?" It had wide variety of exhibits, from regular painting and photographic pieces, to experimental pieces involving pizza boxes and paper trees made from the paper bags in which they are displayed. Also some performance art - this was interesting, in that there was a projection of the room in which we were standing, and the performer would come and act within the space. The impression it gave was which is real, the projection or the room?
This was a geek's dream, a wired up set of audio equipment, an old car, and a robotic set made of discarded items, all cabled up according to the design on the wall behind it. Cool.
Next day I went to Shinjuku and did a little shopping. Still busy.
Ate at "Dubliner's Irish Pub", and had fish and chips and a Murphy's stout. Only oddity here was that you had to pay for each item as it was delivered, rather than having a bill to pay at the end. The norm in these kinds of places is to receive a bill and pay for it at the door, not the server. Here you paid the server item by item.
Later stopped at the market. Ah, the Pororoca.
That's it for now, off to China tomorrow. See you soon!