Got done in Naha early enough to be able to go see a few local historic sites, so here you go.
First, for those who like to check maps and see where I'm located - here's a map sign near the Naha monorail. Route 58 is a main north-south street, and goes up to
Kadena air base
. It's a busy base - we saw quite a few planes flying in at night, 4-engine propeller and jet planes.
Something I've only seen on Okinawa, but which must exist in other places - quick food of the gods, writ large:
For dinner we went to a nearby Italian restaurant popular with the locals (Bacar), and had some of the local Okinawan beer:
The menus is small, margharita and cheese pizzas, and an assortment of small plates. At 9:30 pm the menu changes to fresh pasta and breads. The carbs are good on Okinawa!
Some old school Pepsi in glass bottles and a local tea.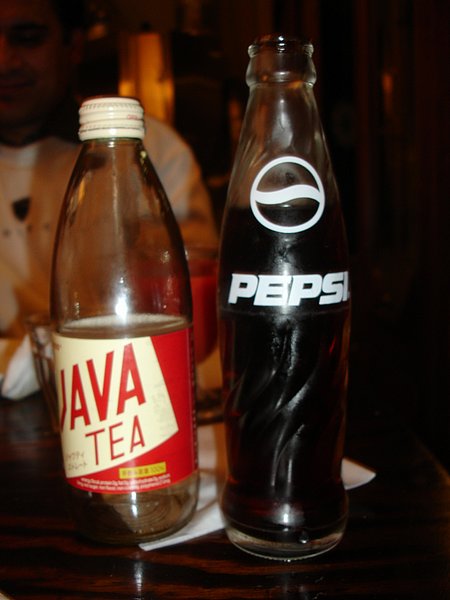 Another meal was an Okinawan noodle bowl with a couple kinds of pork and a local fried rice bowl. Mmm!
The weather was really nice - 72 degrees F, and palm trees abound.
As you may know, Okinawa was the site of one of the
toughest battles during World War II
, and the Okinawans had a really bad time, first at the hands of the mainland Japanese, who forced them to dig tunnels underground for the Navy headquarters and for bunkers for the troops, and later forced suicides to prevent their capture from the approaching Allies, with nearly a quarter of the population dying. After the armistice starvation set in and they had a rough time while the Allies occupied the island. We went to the site of the underground Navy HQ tunnels, which were only cleared out of bodies starting around 1953 and which was restored and turend into a museum. It was a fair presentation of the activities on the island.
This is a photo in the exhibit of the anti-aircraft fire during the Battle.
This shows Okinawa's ideal location as the Naval headquarters.
This is the main entrance to the tunnel complex.
One of the staff officer meeting rooms.
The complex sits on a hill that also holds traditional Okinawan graves.
After that, we took a taxi to
Shuri-ji
, which was the palace of the
Ryukyu Kingdom
, which ruled Okinawa and some nearby islands from the 15th to the 19th century, and was a major trading center. This gate is significant enough that it's featured on the
2000 Yen bill
.
Because of Shuri's location, they had a lot of trade with China, and so the buildings, decoration, and a significant part of the culture has Chinese influences, including the dragon.
The castle was mostly destroyed during the Battle of Okinawa, but has been rebuilt over the last 50 years. They keep adding onto it and completing sections, using techniques and materials as close to those originally used during its construction from the 14th century on. Even though a reconstruction, it's a Unesco World Heritage site.
The throne room.
A view of the castle wall and entrance.
Later we headed north for dinner, and no, the monkey's not on the menu. We ate at a restaurant in
Chatan
, located in the Beach Tower hotel, which has barbecue tables, a local version of Chinese hot pot, and an expansive buffet selection. Along with all one-price food and drink, they have some amusements for the kids, and there's a glassed-in pen with some monkeys and tortoises. This little guy was having fun. I think.
The eats! In the foil are potatoes, garlic and scallions, and some squid. You also see a ring of bitter gourd, which is a local delicacy, and garlicked rice wedges, and some pork. On the plate is pizza which has mustard on it, tempura-ed local peppers, and sushi on saffron rice. We also had all you can eat steaks and other foods. It was good food, decently priced, and a good time. Recommended.
On Tuesday, with the work and eating done, it was time to head back to Tokyo. JAL foiled my single-bag carry-on scheme which had worked fine for this whole China/Okinawa section, because the security screening only permitted small bags not much larger than my laptop bag to go through the xray system, even though the planes can handle standard-sized bags such as mine. I suspect it's because the Okinawa-Tokyo flight is less a flight as a flying bus, shuttling thousands of people a day back and forth. It may have been a 747 but it was more than 400 people full. And yet again, I tried to sit upstairs, but that was all economy class seating. One of these days.
As we neaded north, we passed
Miyakejima Island
, which has Mount Oyama, an active volcano, which last erupted in 2000. Since then, it's constantly emitted sulfurous gases.
I flew into
Tokyo International Airport
, also known as Haneda, which is near to downtown and connects to the city by the Tokyo Monorail, among other methods. Here's a view on the final approach to 16L. You can see the
Rainbow Bridge
and
Tokyo Tower
, and in the foreground is
Odaiba
.
Finally, some folks have inquired what the cell phone I rented looks like. Here's 'tis. See you soon.